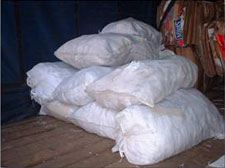 We offer collection services for all grades of paper suitable for recycling. This can be mixed Office Papers, sorted or un-sorted Printers Waste, or shredded Confidential Papers.
If you are located in Hampshire or Berkshire, or nearby, and would like to be included in our Office Paper Recycling Scheme, please fax us your letterhead stating the number of letter-box style bins you require. If you are unsure whether you are within our collection catchment or would like any further details please contact us.
We guarantee that all papers collected are recycled!