We offer a FREE Office Paper Recycling Scheme, providing you with the required number of letter-box style octagonal bins (see pic) for your offices, and supply you with blue sacks to line these bins. All we ask is that when the sacks are full you store them in one location for us to collect.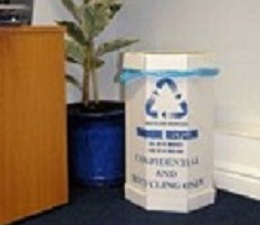 We run scheduled weekly collections throughout Reading, Newbury, Wokingham, Theale, Bracknell, Crowthorne, Basingstoke, Hook and surrounding areas. The provision of the letter-box bins and sacks is free of charge, as are the weekly collections.
If you are located in the above areas, or nearby, and would like to be included in our Office Paper Recycling Scheme please send us your letterhead stating the number of letter-box style bins you require. If you are unsure whether you are within our collection catchment or would like any further details please contact us.
We guarantee that all papers collected are recycled!